Thanks for stopping by to meet me; I'm Mel Riley…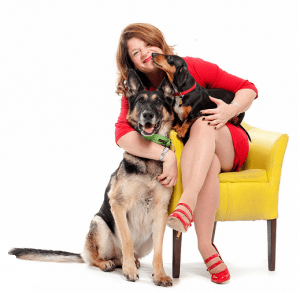 We all need someone to talk to; someone who listens without judging; who accepts with kindness; who is there to hold your hand as you make sense of your world.
I've been that 'someone' for 15 years – and wouldn't change it for anything! As a counsellor, I've helped clients face everything from heartbreaking trauma to overcoming phobias or eating disorders.
As a snapshot, I offer:
Adults and children's counselling
Relationships and family therapy
Dog assisted therapy
Play and creative therapy
Professional training and supervision
Everyone is welcome here – whatever your gender, sexuality, colour. If you're struggling to cope, you'll find a safe place where a warm human being helps you explore your feelings.
Appointments can be online or by phone, but most sessions are face-to-face in the Wolverhampton area. No other staff here, apart from my 'pawsome' team: a sleepy therapy dog, River, and her trainee accomplice, Macca.
How is therapy different with me?
My start in life shaped me. A childhood of abuse and rejection catapulted me from crisis to crisis – never belonging anywhere. Struggling with overwhelming feelings, therapy helped me gradually learn to manage them….
The journey through therapy to qualifying as a counsellor took me to where I am today: happy being me, feeling safe, stable and in charge of my own life.
Must confess, I'm not a typical therapist with a clinical waiting room. Instead, I open my home and heart to welcome you in:
We might stroll in the park having fun with the 'waggy-tailed' mob. Or we can just sit chatting on a bench, away from everything…
Therapy isn't 9 to 5 to suit me. Sessions fit your life and needs. And because I'm an integrative therapist, I use a range of approaches to help you live your life…
Studying neuroscience for the past decade means I understand how trauma affects the brain. I'll help you see it's OK to be human – OK to hurt – then show you how to heal…
If you don't mind an honest, down-to-earth therapist who laughs and eats cake too, call me.
Qualifications and Credentials
BACP Senior Accredited Counsellor/Psychotherapist for children and young people
BACP Accredited Counsellor/Psychotherapist
Registered with the United Kingdom Register for Counsellors and Psychotherapists. (UKRCP)
Member of Association for Family Therapy (AFT)
Approved therapist for Bupa, Aviva and WPA Insurance Companies
Fully insured
CRB/DBS checked
Practice is independently supervised by a senior accredited Ofsted registered supervisor
Ready to go on your journey? I'll walk alongside…
If you're hurting right now, stressed out or your head's in a mess, be kind to yourself. Pick up the phone to see if I'm the right counsellor for you.